We at Taylor Made Pools provide superior quality vinyl in ground pool instillations along with a wide variety of skilled trades in the pools and landscaping field. Dealing with multiple sub trades can be extremely frustrating for clients so we have taken that stress right out of our build process. We have many skilled tradesmen/woman that consists of 2 dedicated pool build teams, service team, customer service reps, 2 stone mason crews, water feature experts a landscaping team, carpenters and designers. From A to Z your covered at Taylor Made Pools, everything is in house and we DO NOT sub contract any trades that work on our sites. Keeping our quality in house and consistent across the board is very important to us.
We start with an on site meeting to see what our clients needs are then we add our expert advice on the build aspect. We then move to a written quote outlining the work desired for your custom built oasis. Once the quote is accepted we meet at our office in
barrie
and go over the contract together to ensure our clients are getting exactly what they want. Once contracted we will set firm build dates and schedule the trades in a seamless manner to get the job done. We specialize in in ground pools of any shape or style, fences and decks, stone work, hardscaping, retaining walls, water / fire features, dive rocks, pool cabanas, hot tub sales, concrete pads, to finishing garden beds and sod.
We own and operate all of our own machines ie: excavators, track loaders, mixers, dump trucks and trailers. We at Taylor Made Pools are your 1 stop shop for all your backyard dreams.
With leading quality and innovation we are simcoe counties number 1 pool builders. Our vinyl pool construction bar none exceeds expectations in the industry. With the use of only the best materials todays market has to offer we build extremely high quality pools built to last. From 14 gauge steel walls to our hand troweled concrete pool floors we ensure a lifetime of quality and enjoyment. Our pools come fully loaded with all the bells and whistles while cutting out the gimmicky upsells that are not needed. We believe quality is extremely important and use only the best materisls backed by the best warranties in the industry from Pentair pool equipment, LED light packages with key fob controllers,wide mouth skimmer packages,clear blue ionizers, and with over 100 30mm vinyl liners to chose from were sure to give our clients the exact dream oasis there looking for. With backorders on pool supplies and long lead times we At Taylor Made Pools pre stock hundreds of pool kits and equipment packages to ensure zero delays on our pool builds. Before a client calls us we have everything needed in stock ready to install there beautiful new in ground pool in a timely manner.
We have a dedicated design and carpentry crew that designs and builds our totally custom pool cabanas for our clients. Weather its a smaller style pool house to a grand cabana we have you covered. Our expert design team will meet you on site to go over the design aspect then narrow down size , style, material and additional wants like fireplaces or outdoor kitchen attachments before building your dream pool cabana you will enjoy for years to come.
Our custom water features are a beautiful addition to any pool build design. Our dedicated team of stone masons and pool pros design and build the best water features around. With our innovative designs, incorporation of natural stone products, to our use of tech for lighting or pyro technics, skies the limit! From back lit led jump rocks to linear waterfalls with fire features incorporated Taylor Made Pools will have you pool side enjoying the beauty of lighting / warmth of fire / sound of water or all 3 with our beautiful custom built water features.
Our expert team of carpenters are able to accommodate any vision our clients have with extreme skill and knowledge of build materials. From decks to fences we have design tools to help clients in-vision there dream deck or build exactly to our clients specific wants or needs. With expert knowledge in the ontario building codes our dedicated carpenters can bring your fencing and decking needs to life with excellent craftsmanship. A pool enclosure is almost a must in most residential areas in Ontario. At Taylor Made Pools we have the knowledge and expertise to build any fencing system on todays market to meet the pool enclosure codes and keep your pool safe and secure. This material list includes but not limited to vinyl fencing, wrought iron,pressure treated lumber,chain link, and ornamental iron.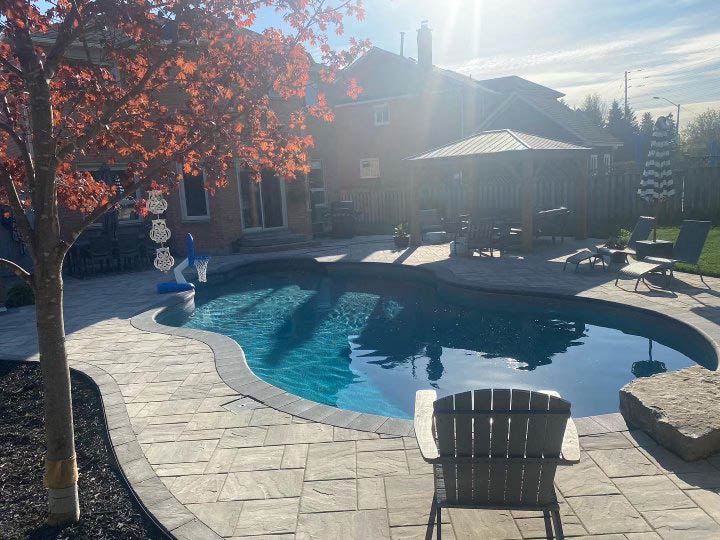 Our stone masons are at the upper echelon of the stone trade. With attention to detail every stone is cut to precision and look fabulous as pool decking. We have an extensive catalogue of stone products and can meet any demand our clients have. Having over 22 stone masons on our team no job is to big or to small for us to handle, from natural stone coping cut in borders and inlays, armour stone walls, dive rocks, retaining wall systems, and in stone lighting we provide a exceptionally beautiful finished product everytime.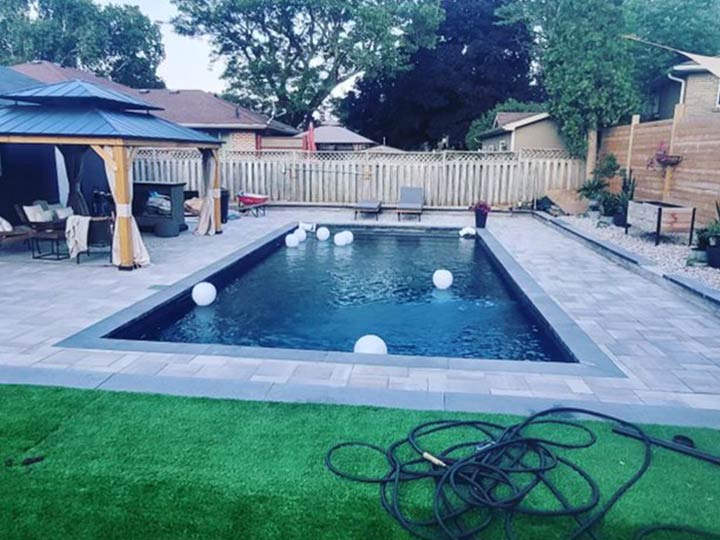 Our dedicated landscaping crew is the icing on the cake. After we install your beautiful pool and hardscaping project our landscapers put the finishing touches on your property. From laying sod to installing your irrigation system we have you covered. Using only the best irrigation systems on the market our crew will supply and install the system that best suits your property and budget. Having a new turf lawn really adds the finishing touches to a beautiful oasis and keeping it nice and green is what we do,
We provide a dedicated team of office/warehouse staff at your disposal.
Use our contact form to tell us more about your project, and we will connect you with the services to fit your needs.